A private education can be expensive, but the value you receive can truly be worth the cost. That being said, Mississippi College is one of the most affordable private universities in the country with a tuition, room, and board cost of just $23,888 per year. The average private university costs $43,289 per year, with the average public university cost around $22,261 per year (as reported by College Board).

While this price tag may initially seem high, after applying scholarships, financial aid, and payment management options, we think you will be surprised at your bottom line at MC. Much of that has to do with our generous scholarship program. If you are considering MC, we encourage you to do more than just browse this page. Contact your Admissions Counselor to start the conversation about what you may qualify for in scholarships. Your Admissions Counselor will be the one to package your award and let you know about all of our scholarship opportunities and financing options.
Find out just what an MC education is worth: www.mc.edu/whyMC.
Academic Scholarships
This is the foundation of our scholarship system. Freshmen are awarded based on their ACT or SAT score. Transfers are awarded based on their incoming cumulative GPA. There is no deadline for academic scholarships, meaning this award can increase, according to our matrix, up until the time you enroll. We encourage students to take the ACT or SAT multiple times to increase their score.
Click the image below for our Scholarship Matrix.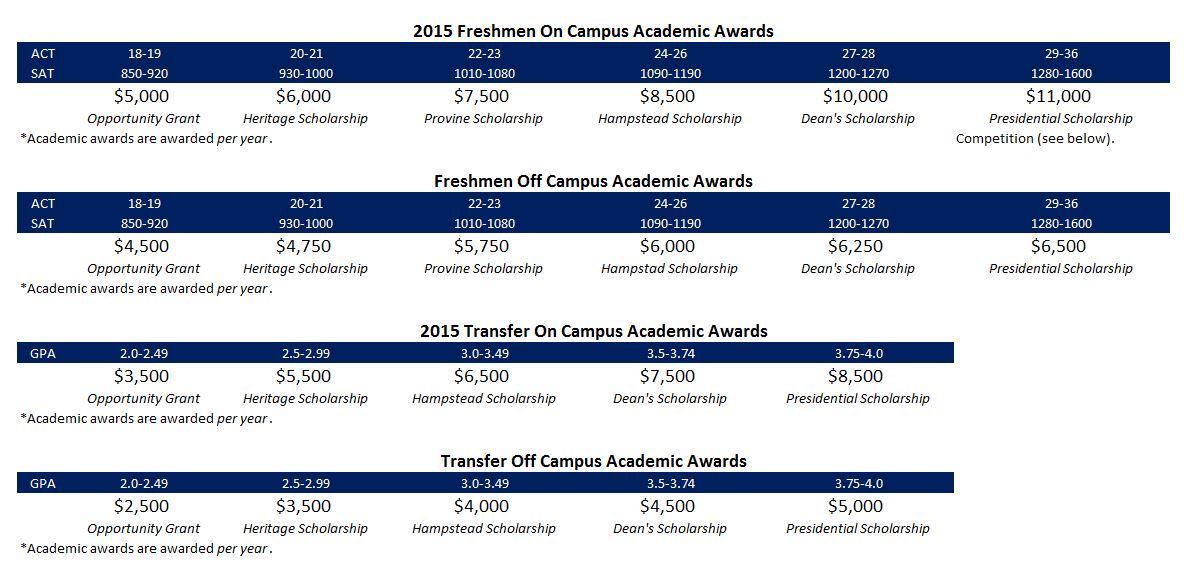 Presidential Scholars, those incoming freshmen with a 29 or higher ACT or 1280 or higher SAT, may compete for additional scholarships. Visit www.mc.edu/presidential2014 for more info.
Information about our new transfer scholarship competition will be published soon. Check back for more details.
Need-Based Mississippi College Grants
On top of your academic award, you also could be eligible to receive additional scholarships based on your Estimated Family Contribution (EFC). This is determined by the FAFSA. Even if you don't qualify for anything through the FAFSA, we use a different formula that awards the majority of students additional scholarship amounts in what we call MC Grants. This can increase your award substantially. To find out what you may qualify for, take a few minutes to complete our Net Price Calculator. This is an abbreviated, unofficial version of the FAFSA that should give you a good idea of what to expect in institutional scholarships and financial aid. If you have been accepted, you will receive a conditional scholarship offer based upon this NPC information. In order to officially receive the MC Grant, you must submit a FAFSA and your actual award will be based on this information. FAFSAs may be submitted beginning January 1 and award notices will be dispersed beginning in March.

Again, even if you don't think you will qualify for any financial assistance through the FAFSA, MC's formula is more generous and most students will qualify for additional monies. Find out what you will qualify for with our NPC.
Stackables
There is also a variety of other scholarships for students who meet certain criteria. We call these "stackable" scholarships, as they will stack on top of your current award.
Alumni Dependent Scholarship - $500 per year for students who are financially dependent upon a Mississippi College alumnus.
Sibling Scholarship - $500 per year for students who had a sibling who is either a current or former MC student.
Christian Ministry Scholarship - $1,500 per year for students who have publically surrendered to full-time ministry. Confirmation from the student's home church is required.
Ministerial Dependent Scholarship - $1,500 per year for students who are financially dependent upon a full-time Baptist Minister.
Valedictorian/Salutatorian Scholarship - $1,000 per year for incoming freshmen who are classified as the valedictorian or salutatorian of their high school's graduating class.
National Merit Finalist/Semi-Finalist Scholarship - $1,500 per year for incoming freshmen who are classified as National Merit Finalists or Semi-Finalists.
IMPACT 360 Scholarship - $1,500 per year to students who participated in the one-year Impact 360 program.
Bible Drill Scholarship - The first place winner in the state level Mississippi Baptist Association Bible Drill tournament will receive full room and board. Second, third, and fourth place winners will receive full room.
Eagle Scout/Gold Award - $500 per year to students who achieved an Eagle Scout or Gold Award. Must provide documentation to confirm.
Hillman Award - awarded to part-time commuters only who do not receive any other institutional aid.
Phi Theta Kappa - $1,500 per year to all community college students who have earned membership into Phi Theta Kappa. Membership into MC's Phi Theta Kappa Alumni Chapter and confirmation from the student's Phi Theta Kappa sponsor is required.
*There is a $2,000 cap on all stackable scholarships above the Academic and MC Grant awards ($1,000 stackable cap for commuting students).
**Stackable scholarship funds are limited and will be awarded on a first-come, first-served basis.
Music & Band Scholarships
Students interested in majoring in Music or participating in MC's Band program may audition for additional scholarships.
Music Scholarships - Students who are majoring in Music can audition for additional scholarships through the Department. Visit www.music.mc.edu for more details.
Band Scholarships - Students participating in one of our band ensembles (football, jazz, symphonic woodwinds, or fall concert) may be awarded scholarships through the Band Director Dr. Craig Young. Contact Dr. Young at cyoung@mc.edu for more information.
Athletic Scholarships
Mississippi College is a member of the NCAA Division II Gulf South Conference. Athletic scholarships are available and are awarded through the Athletic Department. For more information, contact MC Athletics at 601.925.3341 or visit www.gochoctaws.com.
Other Sources of Financial Assistance
State Aid - grants awarded to in-state students (MTAG & MESG)
Federal Aid - loans, grants, and work-study based upon the FAFSA
Church-Matching Scholarships - if a church in Mississippi is set up in this program, MC will match any scholarship (subject to the cap)
Payment Plans - pay your balance at the beginning of each semester or break it up into more manageable monthly payments.
---
*These award amounts will begin for students entering Spring 2014 and forward. These new amounts are not retroactive for current students.